Rate:
5/5
Goodreads Description:
In A Game of Thrones, George R.R. Martin has created a genuine masterpiece, bringing together the best the genre has to offer. Mystery, intrigue, romance, and adventure fill the pages of the first volume in an epic series sure to delight fantansy fans everywhere.
In a land where summers can last decades and winters a lifetime, trouble is brewing. The cold is returning, and in the frozen wastes of the north of Winterfell, sinister and supernatural forces are massing beyond the kingdom's protective Wall. At the center of the conflict lie the Starks of Winterfell, a family as harsh and unyielding as the land they were born to. Sweeping from a land of brutal cold to a distant summertime kingdom of epicurean plenty, here is a tale of lords and ladies, soldiers and sorcerers, assassins and bastards, who come together in a time of grim omens. Amid plots and counterplots, tragedy and betrayal, victory and terror, the fate of the Starks, their allies, and their enemies hangs perilously in the balance, as each endeavors to win that deadliest of conflicts: the game of thrones.
Review:
If you follow me on snapchat (valesbookshelf) you have seen this
So I had wanted to read the books ever since I started watching the series earlier this year with a friend and of course, I became obsessed with it!
When I started to read the books though I wanted to mark all of the deaths that happened during the period of the book, (except animal deaths) and that is what came out of it, I actually didnt count them but I know that there is more than 40 tabs in there
OH! Shoutout to my main Jelly Bean
Jenny
who not only found these amazing tabs but gifted them to me! Tabs are hella expensive where I am from and im extra in love because they are super thin plastic arrow tabs
ANYWAYS!
Freaking enough with the non sense
The book made it so much easier for me to understand the show, you get of course a lot more details but not going to lie. This is the best adaptation I have ever seen!
G. R. R is a god.
Without the show I know for a fact I would not have gotten around to the books, and that wouldve been the biggest mistake of my life.
He does the best job I have ever seen at keeping a reader entertained even when it is not a genre they typically read. Im saying this because this is my case.
The whole book is not something I would ever have added to my TBR pile (To Be Read pile) but oh damn, I never hesistated with this book, there was never a dull moment.
The characters are young, but everything that they do and go through makes you forget it and when you are reminded of their young age it just makes you think, " How twisted it all of this"
Which all in honesty adds to the whole world.
My favorite character remains the same in the book and the show
Daenerys Targaryen
Her character development is like a slap in the face!
Her story line made more sense to me in the book than in the show, since you get more of her thoughts and the reasoning and interactions with everyone in there, it makes more sense why she does things. Everything is more intense.
Tyrion Lannister is... He is something else, he is something who has gone through a lot and while we see that in the show it is sadder in the books.
The way G. R. R. writes is simply captivating. Everything about it is just like a glass of the best wine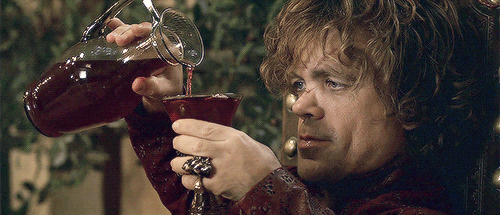 I wish my TBR pile was shorter so I could continue on with the adventure but at the same time im glad since the series is yet to be finished and catching up with the books would mean waiting for the release of the next book which will probably be released when
the sun rises in the west and sets in the east, when the seas go dry and mountains blow in the wind like leaves, when Daenerys's womb quickens again, and she bears a living child.
T
hen of course, 2 more after that!
I dont think I have ever anticipated a release so much for any other author.
EVER
THATS RIGHT! EVER
I feel like I have talked a lot yet have said nothing. I just cant manage to get over it, if you have seen the first season of the show, that will cover the first book. If you havent seen the show or read the books then go out there and do something about it , I havent been able to say much because I end up spoiling everything xD
Recommend it?
I mean if you are a book lover and youre as in love with the show as I am, then yeah, you need to read this as soon as you can.
If you simply love the show, you should really attempt reading these books, they are amazing.